26 SEPT 2012: We have a NEW DAVIDSON BROTHERS TRACK available to purchase at CD Baby!

"TRANSPACIFIC" was written and recorded while Lachlan and Hamish were at opposite ends of the Pacific Ocean (Nashville Tennessee & Bendigo Victoria). This energetic and creative instrumental track is semi-contemporary bluegrass with Celtic influences. Guest musicians featured include Michael Bub on bass and David Grier on guitar.

Click here to purchase "TRANSPACIFIC"

Click here for more information about our Bluegrass scholarship!

Photo courtesy Billy Joe Went

On Saturday 28th January 2012, the Davidson Brothers WON the FENDER INSTRUMENTAL OF THE YEAR at the Australian Country Music Awards (a.k.a. the Golden Guitars) with their powerhouse instrumental OMFG (MP3 SAMPLE). They were also finaists in the Group/Duo category with their original song WRITE ME A LETTER (MP3 SAMPLE). Visit the boys' Facebook page HERE and give them your congratulations!

The DBs also won the BLUEGRASS and the INSTRUMENTAL awards at the 2012 Victorian Country Music Awards on Saturday 11th February, which were held in South Morang, Victoria.

The DBs won BEST GROUP, BEST INSTRUMENTAL, and ALBUM OF THE YEAR at the 2012 TIARA Independent Australia Country Music Awards on April 1st, which were held in Latrobe, Tasmania.

We have a new range of DBs shirts and singlets!
Click HERE to go to the shop!

"THE YEAR'S HOTTEST COUNTRY RECORD... ALL MUSIC SHOULD BE THIS MUCH FUN." - The Age

CONGRATULATIONS GEORGE JACKSON !!
The Davidson Brothers and Pacific International Music would like to congratulate 22 year old GEORGE JACKSON as the receipient of the innaugural Australian Youth Bluegrass Scholarship.

George fell in love with bluegrass when he heard Bela Fleck's Drive album at the age of 14. His family moved to Queensland from New Zealand when he was 16. He has notched up 3 Australian Bluegrass Championships (2 on fiddle and 1 on banjo)as well as being awarded the FAA Young Folk Musicians Award in 2010.

George plays fiddle and banjo, and is confident across many genres, although his heart clearly lies in bluegrass. George is going to put his $1,500 prize money towards flights to the US so he can further study bluegrass music and immerse himself in the scene. George sets a high standard for himself musically and we know he will also make the most of the recording package offered by Pacific International Music.

We want to give an honourable mention also to 12 year old Taylor Pfeiffer of South Australia. She is doing incredibly well on the banjo and has an incredibly bright future in bluegrass.

"THE YEAR'S HOTTEST COUNTRY RECORD...
ALL MUSIC SHOULD BE THIS MUCH FUN." - The Age

Hamish and Lachlan visited Nashville at the end of April 2011 to record a new album. This time round the producing role was shared by the incredibly talented MARK THORNTON and LARRY MARRS. Mark comes from Iowa and played guitar with Jerry Reed for twelve years. Larry comes from Kentucky and has performed and recorded with many country artists, including George Jones, Marty Stuart and Randy Travis.
CLICK HERE FOR MORE INFORMATION

The album will only be available from this website, so give us a hand and spread the word!
Postage is FREE to anywhere in the world!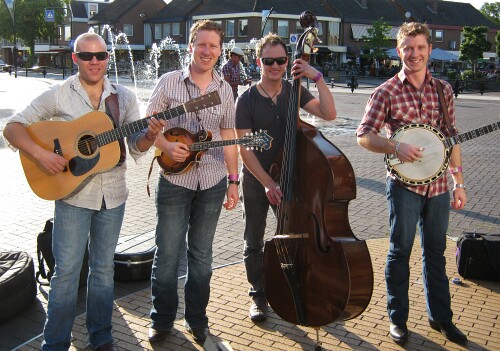 In June 2011, the Davidson Brothers band (including Peter Cooper on guitar and Joshua Verco on bass) completed their first European tour. They were invited to perform at the 2011 European World of Bluegrass in Voorthuizen (Netherlands), so they decided to spend some time touring The Netherlands and Germany, playing mostly festivals and theatre shows. One memorable day on tour involved taking a cab, three trains (they missed their first train, which ended up being derailed anyway....), a bus, and a 6km walk/jog (with their luggage) into the heart of the Dutch woods in Odoorn - and it was most definitely just as much of a party as it was a gig!

On October 2nd, the Davidson Brothers were awarded GROUP OF THE YEAR at the Australian Independent Country Music Awards, which were held in Mildura Victoria in October 2011.
| | |
| --- | --- |
| Australia's top bluegrass act, the Davidson Brothers, were invited to be official award presenters at the 21st IBMA Awards Show at the historic Ryman Auditorium in Nashville Tennessee.The annual International Bluegrass Music Awards took place on the 30th of September and is the most anticipated night of the bluegrass year. Other presenters this year included Alison Krauss, Jerry Douglas, The Grascals, Tim O'Brien and WSM host Eddie Stubbs. It's a salute to the year's outstanding achievements during a fast paced evening of fabulous performances and the music's major awards. Celebrating the success of bands over the past 12 months, there will be special performances on the night from Dierks Bentley, Alison Krauss & Union Station, Jerry Douglas, Doyle Lawson, Tony Rice, The Del McCoury Band, Darrel Scott and a rare appearance from bluegrass legend "Earl Scruggs" along with his sons Gary & Randy. This is the very stage where Bill Monroe first showcased his bluegrass boys to the world on the famous "Grand Ol Opry" show back in 1945. | Photo by Ted Lehman |
The Davidson Brothers selected as finalists in the Most Outstanding Musicians category in the Melbourne Prize for Music 2010. Other Top 10 finalists for the Most Outstanding Musician Award include Vanessa Amorosi, the Grigoryan Brothers and Lisa Mitchell. The finalist's work will be on display at Federation Square in Melbourne from November 8th-22nd. This award is supported by Dame Elisabeth Murdoch A.C. D.B.E. and the winner of a $30,000 grant will be announced on November 10th 2010.

More Info: http://www.melbourneprize.org/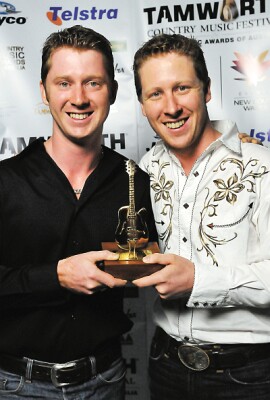 PHOTO BY NORTHERN DAILY LEADER
Congratulations to Hamish and Lachlan for winning
the 2010 Australian Country Music Award for:
BEST INSTRUMENTAL - Fox on the Freeway
The Davidson Brothers were also nominated for:
VOCAL GROUP/DUO - A Showman's Life



L-R: Peter Cooper, Josh Verco, Lachlan Davidson, Hamish Davidson and Daniel Watkins
In Sep-Oct 2009, the Davidson Brothers toured extensively throughout Tennessee, Kentucky, Missouri and Indiana, taking some of Australia's finest young bluegrass musicians with them. Highlights include performing at the International World of Bluegrass in Nashville TN, performing in Rosine KY on the farm where Bill Monroe was raised, performing at Bean Blossom Bluegrass Festival (the longest running bluegrass festival in the world), coming second in a band contest at the Smoky Mountains Fiddlers Convention in Loudon TN, hanging out with Rhonda Vincent and meeting the legendary Ralph Stanley. Hamish & Lachlan also made a guest appearance on Kristy Cox's new bluegrass album that she was recording on Music Row in Nashville at the time. Also, we all enjoyed watching some of our heros perform. It was a huge learning experience for everyone. Aussie Bluegrass Rules!!
Hamish and Lachlan were busy recording a new album in Nashville in April 2009 with multi award winning producer Mark Thornton. The album will be titled BORN TO PLAY and will only be available from this website! So spread the word

Guest musicians include Bryan Sutton, Kevin Grant, Randy Kohrs, Jeff Taylor, Pat Bergeson, Jerry Salley, Larry Marrs, Kenny Malone, Cia Cherryholmes, BJ Cherryholmes and Skip Cherryholmes.

The album features that special Davidson Brothers brand of red-hot bluegrass, but there is also so swing, gypsy, celtic, country and rock flavours! Something for everyone!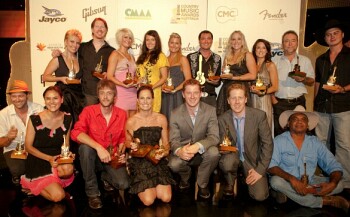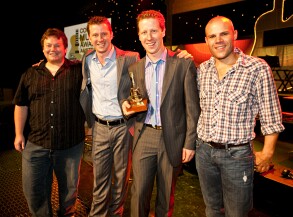 Photos courtesy of Billy Joe (CLICK TO ENLARGE)
2009 AUSTRALIAN COUNTRY MUSIC AWARDS - BEST INSTRUMENTAL
DAVIDSON BROTHERS - 'Left Hand Drive'
Hamish and Lachlan would like to dedicate this special award to their wonderful parents, Fay and Alan Davidson.