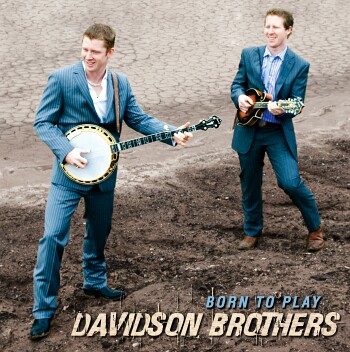 Hamish and Lachlan were busy recording a new album in Nashville in April 2009 with multi award winning producer Mark Thornton. The album will be titled BORN TO PLAY and will only be available from this website, so spread the word!

Guest musicians include Bryan Sutton, Kevin Grant, Randy Kohrs, Jeff Taylor, Pat Bergeson, Jerry Salley, Larry Marrs, Kenny Malone, Cia Cherryholmes, BJ Cherryholmes and Skip Cherryholmes.

The album features that special Davidson Brothers brand of red-hot bluegrass, but there is also so swing, gypsy, celtic, country and rock flavours! Something for everyone!
1 - Born To Play - MP3 SAMPLE
Lachlan Davidson & Hamish Davidson
2 - Harden Up - MP3 SAMPLE
Hamish Davidson & Lachlan Davidson
3 - A Showman's Life - MP3 SAMPLE
Jesse Winchester
4 - Le Bout Du Monde (The End of the Earth) - MP3 SAMPLE
Hamish Davidson & Lachlan Davidson
5 - Lights On The Hill - MP3 SAMPLE
Joy McKean
6 - Everyday - MP3 SAMPLE
Peter Chatham
7 - Agony & Ecstacy / Ten Thousand Miles / Davo's Birthday Bash - MP3 SAMPLE
Hamish Davidson & Lachlan Davidson
8 - I'll Leave My Door Open - MP3 SAMPLE
Hamish Davidson & Lachlan Davidson
9 - Life's Gonna Have A Little Talk - MP3 SAMPLE
Carl Jackson & Jerry Salley
10 - Lucky - MP3 SAMPLE
Jordan Lee / Lachlan Davidson / Hamish Davidson
11 - Fox On The Freeway - MP3 SAMPLE
Lachlan Davidson & Hamish Davidson
12 - My Sweet Blue-Eyed Darlin' - MP3 SAMPLE
Bill Monroe
with BJ, Skip & Cia Cherryholmes
---
THE BAND:
Hamish Davidson - Vocals, Banjo, Fiddles
Lachlan Davidson - Vocals, Mandolin
Bryan Sutton - Acoustic Guitars
Randy Kohrs - Dobro & Resohonic Guitars
Kevin Grant - Upright Bass
Kenny Malone - Drums & Percussion
Jeff Taylor - Piano Accordion
Pat Bergeson - Electric Guitars
Cia Cherryholmes - Vocals
BJ Cherryholmes - Vocals, Fiddle
Cia Cherryholmes - Vocals, Acoustic Guitar
Jerry Salley - Vocals
Larry Marrs - Vocals
CREDITS:
Producer / Engineer - Mark Thornton
Recorded at - Sidekick Sound Studios - Madison, Tennessee
Mixing - Larry Marrs & Mark Thornton
Mastering - Hank Williams at Mastermix - Nashville, Tennessee
Photography by - Robin Sellick
Sleeve Design - HagDog
Disc Design - Mark Saul

DAVIDSON BROTHERS, PO BOX 974, BENDIGO, VICTORIA 3552, AUSTRALIA